GIFT CARD – FILLED WITH 25 % EXTRA LOVE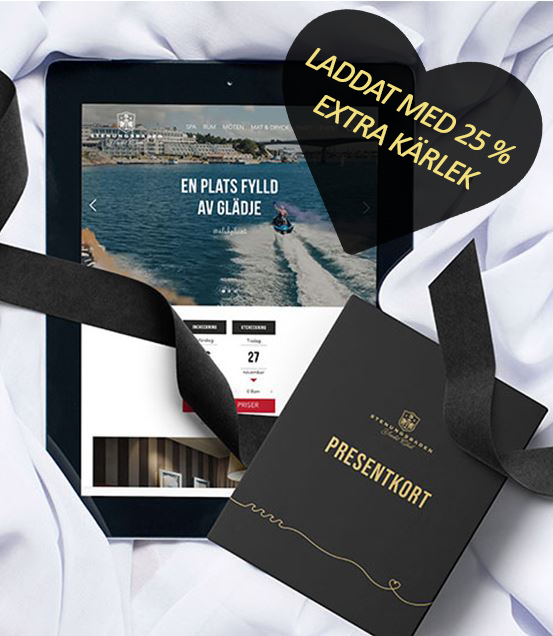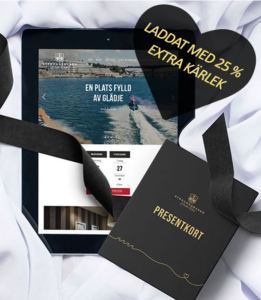 Gift card filled with extra love!
25% extra – SEK 1000 becomes SEK 1250 and SEK 2000 becomes SEK 2,500.
I am sure that everyone is well aware that our industry is currently going through an incredibly tough time. However, we are convinced that we see the light at the end of the tunnel. Therefore, we have a special offer on a gift card that we charge with 25% extra value and which is valid for a full 2 ​​years, every day of the week but of course depending on location.
Join us and love life! You do not need to think about what dinner to cook, no need to make the bed or fix breakfast, we will solve all that. With us you eat well, sleep safely and will be taken care of like never before. You are worth it.
Let's take care of each other!
Happy greetings
Your friends at Stenungsbaden
RULES & TERMS
The gift certificate is valid for 2 years.
The card is valid as payment at Stenungsbaden. The gift card can be used for accommodation, spa visits, treatment or restaurant visits, not alcohol. You must use the entire sum at once. The gift card cannot be redeemed for cash or new gift cards and does not apply to prepaid online bookings.
Does not apply to prepaid bookings
The maximum amount is SEK 25,000
Redeemed by phone 0303-72 68 00 alt mail reservation@stenungsbaden.se